Multiple Modes and RFID Technology Deliver Ultimate Flexibility and Security
Orlando, FL (September 12, 2016) – Building on its full line of industry-leading key and asset control products and technologies, Morse Watchmans will demonstrate its new AssetWatcher solution this week at ASIS 2016. Ideal for use in schools, universities, casinos, hospitals and other high-security applications, AssetWatcher uses RFID technology to track assets that are placed in or removed from lockers.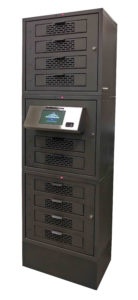 "Our new AssetWatcher provides the same reliability and proven capability to reduce risk exposure similar to our key control systems," said Fernando Pires, VP of Sales and Marketing, Morse Watchmans. "RFID capability and multiple configurations are just two of the many features that allow AssetWatcher systems to deliver flexibility for use in virtually any asset control application."
AssetWatcher's RFID technology uses non-contact wireless radio links to recognize tagged assets. It is also compatible with multiple types of RFID tags for use with different types of assets, and features an audible confirmation when a tag has been read. As a result, AssetWatcher is able track multiple items within a locker and can track all types of tagged assets, including electronics and metal objects. Featuring the same reliable, easy-to-use interface as the company's popular KeyWatcher® Touch, AssetWatcher includes a bright 7" touchscreen and incorporates the MorphoTrak optical fingerprint reader for strong security.
At 2.25" high, 14" wide and 8.5" deep, each locker is sized for small laptops, tablets, phones and other objects. AssetWatcher will be available in 10- , 22- or 34-locker configurations in the first quarter of 2017. Additional systems can be easily added as needed to expand the solution to support even more lockers. Each system is designed to be freestanding and can be mounted to the wall or the floor for convenience and stability.
A number of modes allow AssetWatcher to accommodate a wide variety of uses. Classic Mode allows the unit to behave and be programmed like KeyWatcher systems, enabling users to be assigned permissions for assets and groups of assets. Classic Mode also allows assets to be returned either to any open locker or to be assigned to a specific locker.
Designed around users' needs, Personal Mode allows assets to be added to the system for tracking, with permissions based on lockers rather than assets. Within Personal Mode are Leased Mode and Owner Mode, providing even greater flexibility.
Leased Mode allows users to "lease" a locker temporarily. If a user has no assets in the system, AssetWatcher assigns the user a locker to store their assets. Once the user removes his or her assets, the locker is deemed to be "free", and can be assigned to someone else. In contrast, Owner Mode assigns individuals a specific locker, which may or may not be shared with other users to accommodate shared or specific assets that may be used by one or more persons.