Dallas, TX (September 26, 2017) – Morse Watchmans has expanded its portfolio of key and asset control products and technologies with the newly available RFID-based AssetWatcher System. Featured this week at ASIS 2017, AssetWatcher's RFID technology uses non-contact wireless radio links to recognize and track tagged assets placed in or removed f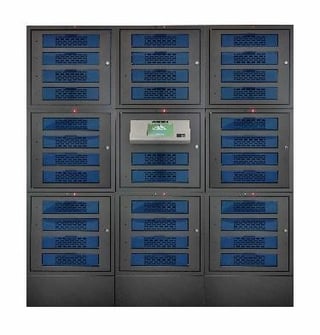 rom lockers. It is compatible with multiple types of RFID tags as well as different types of assets, and features an audible confirmation when a tag has been read.
"AssetWatcher with RFID takes asset control to a new level and new direction previously unseen in the industry," said Fernando Pires, VP of Sales and Marketing, Morse Watchmans. "It's been uniquely designed to allow the user to store and track RFID tagged assets without the complications often seen in RFID tracking solutions."
AssetWatcher can track multiple items within a locker and can track all types of tagged assets, including electronics and metal objects. Featuring the same reliable and easy-to-use interface as the company's popular KeyWatcher® Touch, AssetWatcher includes a bright 7" touchscreen and incorporates the state-of-the-art optical fingerprint reader to ensure only authorized users have access to specific assets.
Operating modes allow AssetWatcher to accommodate a wide variety of uses. In Standard Mode, users are assigned permissions for access to assets or groups of assets. In Standard Mode managers can also specify that assets can be returned either to any open locker or assigned to a specific locker.
Leased Mode allows users to "lease" a locker temporarily and is ideal for occasional use or use by visitors. If a user has no assets in the system at the time of sign-in, AssetWatcher assigns them a locker to store their assets, whether or not they are RFID tagged. Once the user removes his or her assets, the locker is deemed to be "free", and can be assigned to someone else. On-demand enrollment allows users to sign up for a locker using the optional fingerprint reader or access card - ideal for environments with high numbers of temporary users.
In contrast, Owner Mode assigns each specific locker to one or more individuals to accommodate shared or specific assets that may be used by one person or a specific group of people.
At 2.25" high, 14" wide and 8.5" deep, each locker is sized for small laptops, tablets, phones and other objects; AssetWatcher is available in 10-, 22- or 34-locker configurations. Additional systems can be easily added as needed to expand the solution to support even more lockers. Each assembled AssetWatcher system is designed to be freestanding, wall-mounted, or floor-mounted for convenience and stability.
"Expanding the capability of asset control with our new AssetWatcher was a natural progression for Morse Watchmans," adds Mr. Pires. "It's a merger of our unique technology and industry experience with market demands and trends into a purpose-built RFID asset tracking solution."