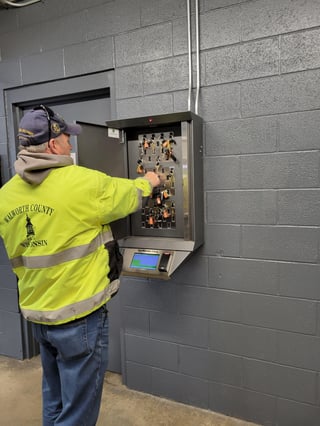 Located at the southern end of Wisconsin, Walworth County is home to just over 100,000 residents. In the summer, it's natural lakes provide an idyllic backdrop for water sports while in the winter, the local Alpine Valley Resort welcomes skiers and snowboarders alike. It is here where the Walworth County Department of Public Works strives to enhance the quality of life, health, and safety of all citizens by maintaining Walworth County's infrastructure, including 1 million square feet of building space.

THE CHALLENGE
The Walworth County Public Works Department previously invested in a nondescript electronic key management system in order to help them manage the physical keys required to maintain and repair all Walworth County-owned buildings and county fleet vehicles. However, due to a lack of support from the manufacturer after the initial purchase and unsuccessful
installation, this system was never fully implemented.
KEY "PAIN POINTS"

Overseeing, managing and tracking hundreds of keys for

government buildings and county fleet vehicles

Transitioning to a new, reliable key management system

Lack of prior support



MORSE WATCHMANS SOLUTION
Nick Hoffman from Hoffman Security Solutions was tasked
with assisting Walworth County Public Works in their
search for a new key management system. Hoffman was already familiar with Morse Watchman's award-winning
key management systems, having previously installed their solutions for other satisfied customers. This led to Hoffman
introducing Walworth County Public Works' Senior Project Manager, John Miller, to the KeyWatcher Touch solution. With
the easy-to-use KeyWatcher Touch system, and Hoffman Security providing guidance on the system transition, install,
training, and ongoing support, the Walworth County Public Works Department is pleased with their new electronic key
management system.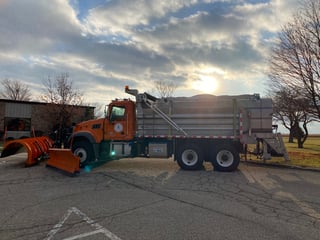 FEATURES AND BENEFITS
Scalability - After seeing the success of the KeyWatcher Touch solution at the Department of Public Works, other departments within Walworth County have also begun installing their own KeyWatcher Systems. " These boxes are starting to catch on, and departments are really thinking about how they will use them for vehicles and building keys," reports Miller. For departments that share keys, the KeyAnywhere feature allows Walworth County official to track keys across various locations, allowing for the system to grow alongside adoption.

Accessibility - One of the challenges prior to the implementation of the KeyWatcher Solution was a lack of support offered by previously purchased key management system. However, once Miller was introduced to KeyWatcher, it was easy for him and his department to get started before the official system transition even began. "One of John's strengths was the prep work he did leading up to the transition," said Hoffman. "He used the available CSV files and SmartKey desktop reader from Morse Watchmans and pre-ordered KeyRings to get set up for success prior to the transition to KeyWatcher."

Asset Management - Beyond key control, Walworth County also turned to Morse Watchmans for a compatible asset management solution. The integrated electronic locker system was used to securely store critical assets such as maintenance
equipment, on-the-job gear, and more.