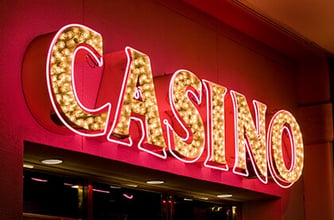 While all businesses – corrections, hospitals, universities, government, hospitality, and more – have unique requirements regarding security and safety, the gaming industry is perhaps the most regulated and has the most number of in-house areas that require key control and management.
Key control and key management systems are an ideal solution for casinos and gaming facilities to secure mechanical keys, access cards and other valuable items.
Keys placed in a key control cabinet are secured with special, tamper-proof stainless steel key locking rings for security and functionality. Different colors of the fobs allow the keys to be organized by group and illuminated key slots also make the process of finding and returning keys faster and easier.
Keys stored in a computerized key bank or cabinet can be accessed only by authorized individuals with an approved user code, an access identification card or a pre-registered biometric fingerprint. Security can establish permission levels for every user and when the system is connected to the network, management can immediately make any changes.
In addition, casino security can add key control systems to secure and restrict access to keys that are used to open cash drawers or cabinets used for storing chips, game cards, dice and other items.
Key management systems also provide an audit trail, with information on every user who accesses the system, which also helps with compliance to state, federal and tribal regulations.
Knowing who took which key and when is fundamental to a key control and security strategy for any casino or gaming facility.
Compliance
Security for casinos and gaming facilities is established by various agencies within the government—local, state, federal, and tribal regulations. They are in place to govern casino security, and they can differ from region to region. All casinos and other gaming institutions must be sure to maintain compliance to regulations to avoid fines or business interruptions, and to ensure consistent operations.
A critical point of compliance to gaming regulations is key control and key management. Many of the most sensitive and high-security items and areas of a casino, such as counting rooms and drop boxes, are accessed and secured by physical keys.
Examples of regulations for keys include procedures required to access drop boxes outside of scheduled hours, the number of signatures necessary for accessing keys, and requirements for a user to get multiple permissions for a specific key. All must be recorded and/or reported to confirm that a gaming institution is adhering properly to compliance regulations.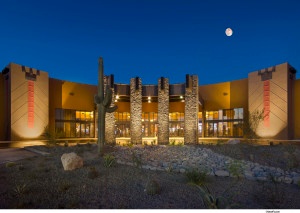 The Desert Diamond Casinos, located in Tucson, Sahuarita and Why, Arizona, recently realized benefits by investing in improvements to their physical security infrastructure using the Morse Watchmans KeyWatcher Touch system to allows staff to quickly and easily comply with a variety of State and tribal rules and regulations pertaining to control and management of facility keys. For example, all key activity transactions within the casino – including time, date and authorized user – must be recorded. The KeyWatcher system automatically records all transactions and provides a "notes" feature for users to indicate why unscheduled drops may have occurred. Usage reports required by the various agencies can be generated as needed or per the schedule. To meet gaming regulations that require the three man rule to access sensitive or restricted key sets, the Morse Watchmans system is programmable to recognize these keys or key sets and open the cabinet door and release them only once the three required logins are complete and the credentials verified Electronic key management systems help make key management and compliance simple for casinos, such as the Desert Diamond Casinos.
Accountability
Knowing who took which key in a casino, when and when the key was returned is fundamental to a casino's ability to show accountability, in addition to compliance to regulations.
For example, one problem facing The Oneida Bingo and Casino, located on the Oneida Indian Reservation in Green Bay, WI, and most casinos, is the checking in and out of floor keys.
Throughout Oneida's daily gaming hours, a team of about ten employees would remove money from the casino floor to be accounted for in other areas. The team had to wait an average of 15 minutes while a supervisor signed the keys out under the eyes of security personnel, which was an unnecessary waste of time, labor and productivity.
Using the Morse Watchmans KeyWatcher key management solution, the wait for ten employees to get their keys has decreased from 15 minutes to less than 90 seconds. The casino recently had three audits and every key has been accounted for, as the system provides an audit trail with critical data of every user who accesses a key control management system.
All access activity is automatically recorded including date, time, table game number, reason for access and signature or electronic signature. The system is programmable to accommodate procedures required to access drop boxes outside of scheduled hours to the number of signatures needed to access highly sensitive keys.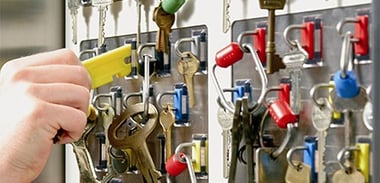 When keys are overdue, alerts are sent to the appropriate personnel via email or SMS text so that immediate action may be taken. Activity may also be monitored via mobile devices.
Key management systems for other casinos, depending upon their individual needs, can be integrated with other security systems such as access control and video management systems, which provides even greater accountability.
Usage reports generated by a key management system provide valuable information for auditing or forensic purposes. Requested reports can trace key movements by time, date and user code as well as audit reports that track keys in use, overdue keys and inconsistent key usage. Reports can be generated as needed for emergency situations as well as being regularly scheduled.
A well-strategized physical security system with key management and control provides a sound accountability system and a strong defense.
Counting Rooms
The procedures for collecting money and chips from drop boxes have some of the most stringent rules covering virtually every step in their processing, to help ensure that theft and fraud do not occur.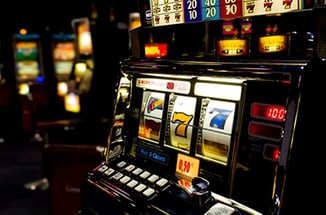 While regulations vary among regions, in many locations, three signatures are required to sign out the important keys to counting rooms, which are required to perform a drop. Not only do these keys protect a counting room, but also their controlled usage can help to ensure that each procedure is followed accurately and securely. Protecting the keys themselves, and making sure that they cannot be stolen, copied, or secreted away by unauthorized persons is therefore of paramount importance. In addition, it is necessary for casinos to provide a range of documentation to state, local, federal, or tribal gaming agencies in order to prove compliance. Because of their ability to generate these reports documenting correct usage, electronic key control systems provide even more value and utility to gaming businesses.
A key management system in place through a casino automates the process of ensuring that keys for counting rooms can only be removed and returned when the necessary three valid authorizations are provided. Those keys that are not permitted to be out at the same time as drop keys cannot be removed from the cabinet until the drop keys are replaced. For certain authorized situations, a user can be granted their keys immediately if the system recognizes that the user does not currently have their keys out. The cabinet doors will not open without verification that the user has permission for the specific key requested, providing a double layer of security during drops. Alerts can be sent to the mobile phones or emails of security personnel and managers if attempt is made to access an unauthorized key or if a key is overdue to be returned.
Proving compliance and remaining compliant can be difficult tasks for a casino. Many gaming regulations require notation of key access—when a key was removed and by whom, and that drop procedure was properly followed. Key control software can be set up to generate many kinds of reports, including those required for compliance audits. These reports can be automatically generated and sent to the appropriate personnel for review, or manually requested from within the system at any time. Should an unscheduled drop occur, an auditor will require notation as to what occurred and what procedures were followed. The notes feature on the key control system makes it easy to denote unscheduled drops within the system and how compliance was maintained.
A drop count is a delicate process, requiring a great deal of security that is highly regulated. Key control to keep the important drop box and counting room keys secure, only allow access to the proper number of authorized users, and easily create compliance reports can greatly streamline the drop process while making compliance simpler and increasing overall security for the casino.
Gaming Tables
Gaming tables are one area where security is at its highest, with thousands of video surveillance cameras strategically placed and used, to not only meet gaming regulations and audits, but also to catch potential cheaters or other types of thefts.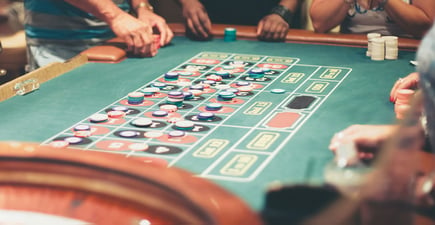 Table game drop boxes are an important piece of casino kit. Chips are collected and added to the drop box for safety and security. The drop box is usually a sealed metal case, which can be locked to prevent tampering, or theft. The case is kept to the dealer's side close to the table. Many drop boxes are designed so that once chips have been put inside, they can usually only be removed with the manager's key.
Drop boxes require a number of different types of audits on a regular basis to ensure that a casino is in full compliance with regulations. For example, for employees signing the table game drop box keys in or out, Nevada Gaming requirements call for maintenance of separate reports indicating the date, time, table game number, reason for access, and signature or electronic signature. An "electronic signature" includes a unique employee PIN or card, or employee biometric identification validated and recorded through a computerized key security system.
Morse Watchmans key management systems feature software that enables the user to set up all these and many other types of custom reports, which can run and be delivered automatically to management on a regular basis. The robust reporting system will also greatly assist the casino in tracking and improving processes, assure employee honesty and minimize security risks. Auditors can be given access only to print reports, without access to key sets.
Additionally, robust SMS text messaging and emailing allows for the key set user or select management to automatically receive alerts when specified key sets are removed and/or returned, along with select alarm notifications.
Key management systems in a casino environment can also be set up with customized rules to meet the three-man regulation for sensitive or restricted key sets—usually a drop team member, cage cashier, and security officer. The system can be configured to recognize these sets of keys, and only allow access to them if the three required logins are completed. Additionally, notifications can be set up to alert security personnel via text and email if these keys are being requested, to keep management apprised of when certain keys have been removed or replaced.
Lockers
Mobile technology has revolutionized how people communicate. These days, everyone has a mobile phone to keep in touch with family, friends, co-workers, and more. Casino staff are no exception.
Even more, many casinos employees use electronics such as tablets and other digital devices in order to deliver high-quality customer service.
Digital devices with important data that are small enough to be lost or stolen—in locations such as employee locker rooms or other casino areas—present a liability risk to any casino that makes use of them. The possibility that a tablet or phone could be physically connected to a hacker's device—either to steal information or to use the device as a backdoor into a network-- is also a risk when mobile technology becomes integral to a business. If mobile devices are stolen or lost, it can be costly to replace them and secure new devices. If they are used to access a network or your data, they can be even more costly. It's therefore become essential to secure and protect these devices.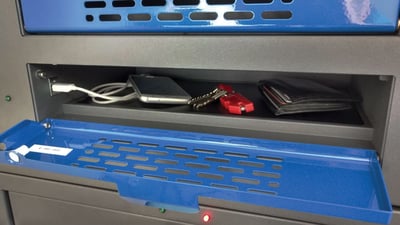 Asset management lockers can significantly lower the risk presented by mobile device usage. With secure lockers that are only accessible to authorized users, it's simple to ensure that important devices with critical information are only removed by authorized individuals and only when necessary, and that they are replaced in a timely manner. Asset management lockers can be easily integrated with your existing access control system, making them easy for your employees to use, and with RFID technology they can even track which asset within a locker has been removed. In addition, they can provide your security team with a wealth of other data—for example, timestamps for when devices are removed or replaced, notes tied to a specific device by a user denoting usage or any special circumstances.
The value provided by an asset management locker system to secure mobile devices cannot be overstated. Installing asset management lockers can make it simple and efficient to keep track of important mobile devices and other assets, helping reduce the risk to your business of their being stolen or lost. In addition, they make it easy to track assets within the system, and they can be integrated with the rest of a security system. The cost of stolen mobile devices could be bigger than you think—investing in asset management can be a cost-effective and secure solution.
Your Casino's Fleet: Why You Need a Fleet Management System
Many casinos and gaming facilities have a fleet of vehicles that are used to transport guests and high-profile VIPs to other areas of the property, to guest rooms, to the airport, and other locations. VIPs and guests often rely on this transportation, and view it as part of their overall experience at the casino or gaming facility.
Therefore, casinos need to ensure that all casino vehicles are managed, tracked and maintained. The biggest obstacle to that challenge is often the sheer number of vehicles to manage.
Morse Watchmans KeyWatcher Fleet provides all the tools you need to schedule and track service status for your entire fleet.
For example, using a fleet management system such as KeyWatcher Fleet allows you to set automatic service triggers guarantees that any vehicle will be flagged for service when the time comes. Once the vehicle is taken offline, service techs can be notified that a vehicle requires attention.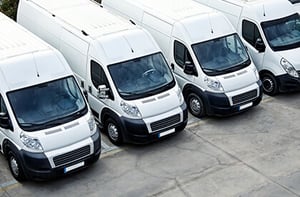 Sometimes a problem will arise while a driver is using a vehicle. When this happens, it is imperative that the problem be reported upon return. Use your fleet management system to make this process easy and convenient for drivers, and you will ensure that problems never linger or worsen.
Even more, a fleet management system will allow you to rotate vehicles in and out of service, using a variety of criteria, including lowest mileage; first in, first out; most fuel/charge; priority; and more.
A key management system that is purpose-built and designed for fleet management, such as Morse Watchmans KeyWatcher Fleet, will give your drivers an easy way to request and return keys while also delivering functionality to optimize fleet utilization.