Award Winning KeyWatcher® Touch System Featured Alongside Suite of Products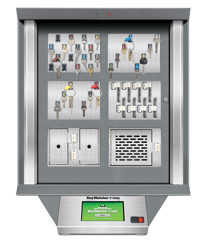 KeyWatcher Touch
Las Vegas, NV (October 11, 2022) – Morse Watchmans, the industry leader in key control and asset management systems, is showcasing several of its latest key control and asset management solutions at the 2022 Global Gaming Expo, also known as G2E. G2E 2022 attendees can visit booth #2919 to receive an in-person demonstration of Morse Watchman's award-winning KeyWatcher® Touch system alongside a range of additional products and solutions.
"We are proud to exhibit in company with other solutions innovators that all represent the future of gaming," said Tim Purpura, VP of Global Sales and Marketing, Morse Watchmans. "This is a wonderful opportunity for us to demonstrate exactly how our products promote compliance and accountability in this lively, yet highly-regulated industry."
The KeyWatcher® Touch electronic key cabinet is a scalable key control solution for organizations looking to secure, manage, and track keys and other assets. With a 7" touchscreen and patented SmartKey system with KeyAnywhere technology, it is easy to withdraw and return a key securely to any key cabinet located within an enterprise. KeyWatcher® Touch also integrates with many brands of access control systems for a layered security approach.
Morse Watchmans' additional product offerings also include KeyWatcher Fleet® for automotive fleet management applications, KeyBank® Touch for large quantities of keys and SmartKey® Locker Touch System for the storage and tracking of larger objects. These solutions, coupled with Morse Watchmans' industry-leading software, service and support, ensure the safety and security of a variety of physical assets.
Now in its 22nd year, G2E continues to welcome top gaming industry professionals from various business categories in the gaming ecosystem. G2E 2022 is held in Las Vegas at The Venetian Expo from October 10-13 (Expo hall opens October 11).
For more information about Morse Watchmans' product offerings, visit www.morsewatchmans.com or visit us at G2E booth 2919. Receive your complimentary G2E 2022 Expo Hall Pass, courtesy of Morse Watchmans, here.
All registered trademarks are the property of their respective owners.