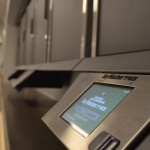 Oxford, CT (September 9, 2014) − Having to abide by and work with technology and/or product choices made remotely by a head office can sometimes be a challenge for branch locations. The local situation or circumstances may be slightly different than corporate or the feature set of the product may not exactly meet everyone's requirements, leading to a less than satisfactory solution.
This was not the case however for the Hyatt Regency Dallas which recently implemented the Morse Watchmans KeyWatcher Touch™ key control and asset management system per the key management policy set by corporate head office. According to Moses Barrera, Director of Security for the Hyatt Regency Dallas, the KeyWatcher Touch system features are exactly what they need to ensure key accountability and accurate reports which ultimately add to the hotel's reputation for excellence.
"A commitment to unparalleled service and amenities distinguish this iconic property from other hotels in the heart of Dallas's historic district," said Mr. Barrera. "The KeyWatcher system helps us achieve that same type of commitment in the back of the house by providing actionable information. Using KeyWatcher, we are able to take preventive measures rather than after the fact reactive measures."
With KeyWatcher Touch installed at the hotel about a year ago, keys are secured in a locked tamper-proof cabinet and only authorized users can access those keys which they have been pre-approved to use. All key access activity is automatically documented so hotel management has an accurate record of who accessed keys and when. The system's automatic email notification provides Mr. Barrera with instant awareness when a key has not been returned as scheduled and can even be programmed to send an alert if a key has not been accessed per the regular schedule.
Customized and scheduled PDF reports can be automatically emailed to authorized recipients or scheduled for any frequency or specific time. They can also be accessed using the Morse Watchmans smart phone app. The managing software package runs all programming, remote functions and reports while the server performs all synchronizations of transactions as well as maintaining the SQL database.
"We use the various reports to track trends as well as follow up on any incidents or questionable activities," he said. "The system gives us the flexibility to collect and analyze the information for whatever best suits our needs."
Mr. Barrera confides that he had no doubts about the usability or performance of the Morse Watchmans technology based on his previous use of the key management equipment while he was located at the Grand Hyatt Seattle. He mentions as well that the Dallas property also uses the PowerCheck® Guard Tour Systems from Morse Watchmans and has had an equally positive experience with the system.
The computerized PowerCheck Guard Tour System is comprised of a hand-held data recorder, checkpoint stations, and reporting software. The hand-held data recorder allows the hotel's security personnel to input incident codes on site, using the built-in keypad and display. The Tour-Pro™ Data Sorting Software is a Windows® application which converts the data recorder information into custom reports that are used by Mr. Barrera's department.
"Information is key in a security operation and the solutions from Morse Watchmans that we are using here at the hotel give us the accurate information that we need, when we need it and how we need it," adds Mr. Barrera. "It really helps to keep our side of the house running smoothly."