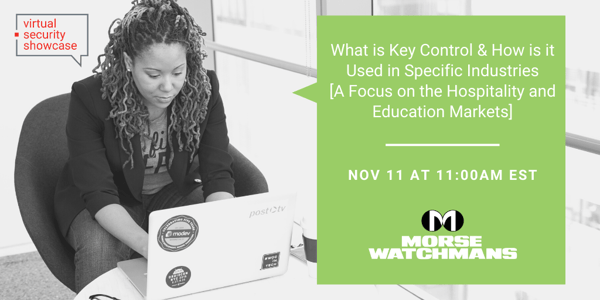 Oxford, CT (November 3, 2020) – Morse Watchmans has announced their participation in the second Virtual Security Showcase (November 10 - 12), giving attendees an opportunity to learn about the latest trends in key control and overall security.
Presented on November 11 at 11 AM EST, the webinar will be led by Tim Purpura, VP of Sales and Marketing, Morse Watchmans', James Byrd, Director of Physical Security and Technology at Wake Forest University, and Erik Antons, Leader for Global Strategic Risk Management for Hyatt Hotels. Focused on key control in the hospitality and education sectors, the session will include both a discussion and a Q&A section. Topic will include the hierarchy of keys in a university setting; the employee/key relationship in hotels; and the cost, control, and security in both.
"We're excited to have the opportunity to get in front of the security community when so many events have been postponed or cancelled," remarked Purpura. "Discussions including Q&A sections like these really benefit attendees in a way that static materials just can't."
Interested parties can register for What is Key Control & How is it Used in Specific Industries and all of the other Virtual Security Showcase Sessions at virtualsecurityshowcase.com/register.