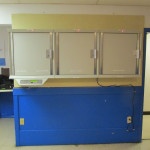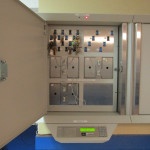 KeyWatcher® Systems Ensure Accountability for Keys and Essential Communication Devices
Oxford, CT (June 12, 2014) – Located in Florham Park, NJ, and offering convenient access to Newark Liberty International Airport, Wyndham Hamilton Park Hotel and Conference Center services guests in 219 rooms and 40 conference rooms. The hotel features more than 27,000 square feet of property and can support up to 400 people for conferences, events and special occasions.
As with every hotel, ensuring the comfort of guests is a top priority for the Wyndham Hamilton Park, making it crucial that staff address and correct any maintenance, cleaning or customer service issue as quickly as possible. Because effective communication plays a major role in achieving this goal, the hotel equips its staff with iPod Touch devices with an installed push-to-talk app during their shifts. However, having to identify and track down whoever has the key to access a particular area of the hotel can be a time-consuming obstacle to efficient resolution of issues that arise. The challenge is compounded if an iPod Touch is lost or if an employee forgets to return it at the end of his or her shift.
To solve potential problems and ensure guests' needs are being met, the Wyndham Hamilton Park has deployed Morse Watchmans KeyWatcher® key control and management systems. In addition to securing keys, Wyndham Hamilton Park has customized their KeyWatcher with locker modules to hold its iPod Touch devices. Specially implemented openings in the back of the cabinet accommodate power cords to allow the devices to be charged when they're not in use.
The hotel primarily uses KeyWatcher to track missing or late keys and devices, which are stored in the cabinet and which employees can only access using their unique ID and PIN. Each KeyWatcher key control cabinet will not open until the system has verified that a particular user has permission to access a requested key, and the system automatically records all activity. If an item is missing or hasn't been returned on time, security staff can be alerted and quickly determine who removed it, when it was removed and when it is due to be returned – a formerly time-consuming process with written sign-out logs or no logs at all.
According to Amy Wickenheisser, Wyndham Hamilton Park's Director of Operations, in addition to allowing the hotel to streamline its maintenance and customer service operations, KeyWatcher has also improved security.
"To distribute keys in the past, we had to keep our security office staffed at all times, so rather than patrolling the property, security staff were tied to that one location," Wickenheisser said. "Now authorized associates help themselves to their keys and iPod Touch devices, freeing our security staff to be where they need to be, whether on patrol or responding to a call."
Wyndham Hamilton Park implemented the KeyWatcher systems earlier this year and the hotel has liked what it's seen so far.
"We're still fairly new to KeyWatcher, but so far it has been working very well for providing accountability for keys and iPod Touches. Morse Watchmans has been wonderful to work with and we're very happy with the results we've gotten in just a few months," Wickenheisser said.