Full Line of Solutions on Display at ESSEN 2014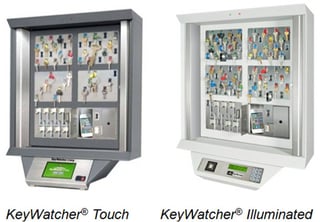 Essen, Germany (September 23, 2014) – Morse Watchmans is giving booth visitors a preview of their new voice cues at this year's Security ESSEN show. The new feature will be demonstrated along with the company's portfolio of key control and asset management systems, offering organizations of all sizes a full range of choices to access the benefits of managed key control. The product offerings are easy to implement and all include the same qualities and benefits for which Morse Watchmans products are known – innovative design, reliability and state of the art technology.
"Key management is a vital tool in ensuring a safe and secure facility, and voice cues make it even easier for the user to incorporate key control into their security program," said Fernando Pires, VP Sales and Marketing, Morse Watchmans. "The breadth of innovation in our product portfolio builds on that capability by giving users more exciting and easy to use options for creating an integrated and comprehensive state of the art security system."
At the show, Morse Watchmans is previewing a KeyWatcher system that uses voice cues to prompt the user to open the door, remove the key, return the key and close the door. While the feature is not currently offered with new systems, a positive response from show attendees will speed its incorporation into new systems in the future.
Users can select key management solutions for single location applications such as museums or correctional facilities or for multiple site enterprise level installations at university campuses. There's even a system designed specifically for fleet management applications. Innovative features that make the user experience more exceptional include scheduled reports, automatic email notifications, easier to use on-screen icons, key reservations, mobile capability and checking key ring inventory.
KeyWatcher Touch has been updated to incorporate new easier to use onscreen icons. The enterprise key control and management system has a large touchscreen and user-intuitive interface including KeyAnywhere and KeyFind operations. It offers the convenience of scheduled PDF reports that are automatically emailed to authorized recipients. Email delivery of customized or standard reports can be scheduled for any frequency or specific time. System administrators have access to view or run reports as needed. The system also enables security management to easily notify a user via email when a key becomes overdue. Morse Watchmans' smartphone app provides access to live reports, such as updates that a key is in or out, in addition to live transactions.
KeyWatcher TrueTouch software offers ring inventory functionality allowing multiple rings to be designated for a single SmartKey. Users can now more easily define what keys and rings are attached to the SmartKey. The advanced TrueTouch software runs all programming, remote functions and reports for all KeyWatcher Touch locations, while the server synchronizes transactions and maintains the SQL database. Both access control systems and customized client control software interface with the server application.
KeyWatcher Illuminated can be configured with a variety of modules and customized to specific user needs. Available modules include the credit/access card module and single and dual locker modules, which can be used in any KeyWatcher system to hold small valuable items.
Morse Watchmans' Mobile App enables authorized users to see a wide range of live information and to interact remotely with the KeyWatcher Touch key control and asset management system. It's a highly efficient and easy to use tool that greatly simplifies key control management while on the go.
Also on display are the KeyBank® Key Control System that provides total accountability of large quantities of keys; KeyPro™ Software; KeyRings™; PowerCheck® Guard Tour System and TourPro™ Data Sorting Software.