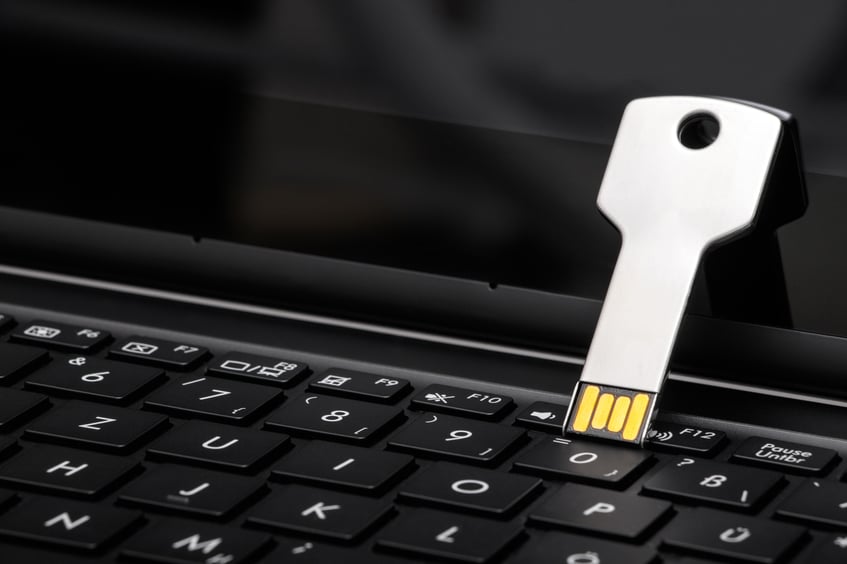 Take a look at your keyring. Are you missing anything? According to some cybersecurity experts, if you do not have a digital security key, you are overlooking a valuable resource that can help to ensure cybersecurity for yourself and your organization.
What is a digital security key? Essentially, it is a small physical device that looks like a USB thumb drive; you carry it on a keychain like a regular key. It emits one-time passwords for use when logging into secure accounts, enabling secure dual-factor authentication.
According to one provider, the ease of use and reliability of the devices is proven to reduce password support incidents by 92 percent.
That is important, because in many organizations, passwords and their misuse and mismanagement continue to be a problem that can open a company to a data breach. According to a report by Risk Based Security, 2019 is on track to being the "worst year on record" for data breach activity, and passwords are part of the problem.
The 2019 Midyear Quickview Data Breach Report reports the number of data breaches is already up by 54% over last year, with half the year still to go. More than 3,800 data breaches were reported in the first half of the year, exposing 4.1 billion records and compromising consumers' personal and financial information. Email addresses and passwords remain high-value targets for hackers. According to the report, passwords account for about 64% of all data compromised to date.
A digital key can be a solid two-factor authentication solution to secure logins and protect accounts and more. If that valuable security key is lost, misplaced or stolen, security can be compromised.
This is where an additional layer of protection should be considered; one that keeps both physical keys and digital keys secure.
An electronic key management system is the most effective way to control your employee's and company's physical and digital keys, which will help to ensure that hackers can't use a security key to access your company's networks and data.
Electronic key management systems can increase security and control, prevent unauthorized key access, and with digital keys, can reduce lost or misplaced ones. Solutions are available that offer real-time accountability and reduced liability. The access history of each key added or removed from the system is instantly recorded, so you always know who has which security key and when it was removed and returned.
To secure the many small items such as tablets or two-way radios used in a warehouse or facility, Morse Watchmans' SmartKey Locker Touch provides secure storage with electronic locker systems that secure and track valuable assets. SmartKey Lockers track who removes and replaces each asset in a system, such as a cell phone, along with when assets were placed in or taken from a locker.
In the current cybersecurity threat environment, a password is no longer enough to keep employees and companies safe from a data breach. Staying free from a data or network breach means employing additional safeguards that can include two-factor authentication via a digital key. However, a separate physical device, such as a security key, also needs the same physical protection as every other physical key in your enterprise. Electronic key management systems can provide that additional protection and keep your company's network secure.
Download our new guide, Asset Management Best Practices to take control of your valuable assets and reduce theft and liability now.